--by Nancy Hausauer
Energetically, happiness is a very light, buoyant manifestation of energy. Think of a helium balloon.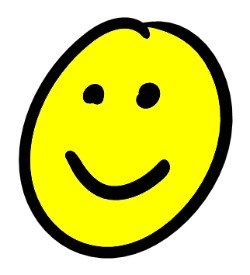 As the saying goes, happiness is an inside job. It's generated from within, not triggered by external events that we deem favorable. Still, there are some things we can do to get the happiness-energy going when it's lagging. Here are three extremely accessible and reliable ways to kickstart your internal happiness engine.
Be genuinely happy about other people's happiness and good fortune. The nice thing about this way of generating happiness for yourself is that, even though it's technically an external trigger, it's an inexhaustible resource. Even if it's not your nearest and dearest, there's always going to be someone, somewhere, who is experiencing joy and positive things. You can join them in the privacy of your own heart or even let them know that you're glad for them. You'll never run out of opportunities to feel happy for others.
Make someone else happy. Pick people who are pretty easy to make happy. Read to a little kid, take them to the zoo or get down on the floor and play with them. Walk your dog, or borrow one if you're without. Visit your great-aunt. Volunteering for a charity is good too, especially if you're doing concrete, directly helpful work. Happiness seems to be contagious, so in the process of lifting someone else's spirits, it's almost inevitable that you'll feel happier, too.
Make something. A cake, a picture, a poem, a bouquet, new shelves for your garage. It doesn't matter what you make; there's just something about "making" that's mood-lifting.
I also suggest you visit the website "Happify," which gives us science-backed information and skills to increase our proficiency. For starters, check out this article, The Five Skills That Will Increase Your Happiness.
The five skills are:
savor
thank
aspire
give
empathize
Cheers! --Nancy
Comment or share on my Facebook page.