--by Nancy Hausauer
This is from the new book I'm working on, tentatively titled, "So You Want To Be An Energy Healer: Insight, Tools And Encouragement For The New Practitioner." I'm hoping to get it done next year. --Nancy
*******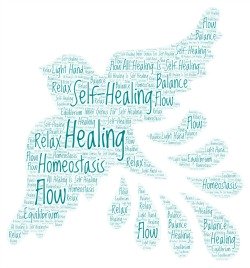 Energy healing can be daunting—if you think that you're in charge. If you think you're the one doing the healing for someone else, it's a heavy burden.
But you can put that burden down and approach each session with a light heart, because you're not really in charge. All healing is self-healing. You, as "the healer" only support, amplify and possibly accelerate the innate healing powers and processes of the person you're working with.
You see, each of has a genius for self-healing and self-balancing. Our bodies do it naturally, all the time. It's called homeostasis.
When we offer someone a healing session, we're just giving them a little nudge in the right direction. That's why it's best not to overdo it. We want to give each person the least intervention possible.
Someone wrote to me once asking about an experience in which he had tried to "push" energy into his ailing wife. She felt terrible afterward. That's because he was trying to be a hero and save the day for her. He was trying to do more, instead of less. His intention was good, but his wife's response illustrates the importance of using the lightest hand possible in order to activate your client's own amazing powers of self-healing.
If you and your client were a race car team, your client would be the driver and you would be the pit crew. You are an important part of the team, but the main event is your client's own internal process.
Implications For Energy Workers
Remember to check your ego—and any anxiety you may have—at the treatment room door.
Believe in, and mentally bow to, your client's truly astonishing ability to re-balance and come back to a state of flow and equilibrium.
Use a light hand in your work. The least amount of intervention is usually the best amount.
Trust that your clients nearly always know the answers to their questions and carry the solutions to their problems within. Listen carefully, either with your physical ears or your intuitive ears, because they'll often tell you outright what needs to happen for them to heal! Then you can just reflect those answers and solutions back to them.
Relax. As I keep saying, you'll do better work!
Namaste, Nancy