--by Nancy Hausauer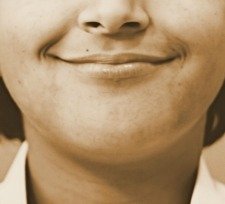 In our culture, it seems like most of us are awash in self-judgment and self-criticism most of the time. There's a lot of talk about self-love, but many of us don't even appear to LIKE ourselves much. Which is absurd, because there is so much to like--and love--about most people.
The self-dislike has huge implications, both for our own lives and our sense of ease and happiness in them, as well as for our relationships with others. That's because we often transfer our self-criticism and judgment to others. This is true even (especially?) with the people we love. Our energy gets intertwined with theirs, and so the energy of our self-judgment gets transferred to them as well.
An Exercise To Nurture Self-Liking
So I have an exercise that I think you'll love, and that I believe may be transformative. I'm aiming to do it regularly, and I invite you to do it, too.
Sit quietly for a few moments, following your breath. Let your thoughts even out and let calm start to enter your body.
When you feel calm and settled, think of a person you really, really like. (It can be easier to choose someone not in your closest circle of friends and loved ones, for the aforementioned reasons about our self-judgment rubbing off onto them.) This should be someone who makes you feel warm and smiley when you think of them.
Get an image of them in your mind and allow the warm, smiley energy of liking to grow and spread to your entire body, and then out into your energy field. Don't overthink this; however you do it is fine.
Then, allow the image of your person to fade. Often this happens on its own. Let their image fade away so that your mind's eye is empty. However, let the feeling of liking and appreciation to remain.
Just allow yourself to sit in this warm, smiley feeling of liking, without an object. Enjoy it. It feels good!
What you are doing is sitting with yourself in a state of liking and positive regard. This is a new feeling for many of us! And it is very, very healing.
Try to do this for a few minutes every day. Notice if it affects the quality of your life and relationships.
Wishing you unconditional positive self-regard,
Nancy
Comment on my Facebook page.