--by Nancy Hausauer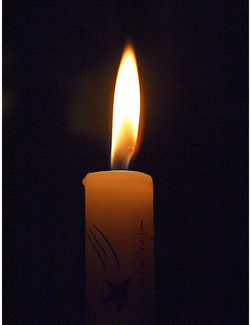 Here's an ultra-simple meditation to help you witness your own awareness.
Why is witnessing your own awareness important? It's a sixth and seventh chakra experience that takes you out of the ordinary stream of mental chatter, sensory phenomena and knee-jerk responses. While awareness of awareness--also called meta-awareness--isn't something that most of us can sustain for very long at a stretch, even short experiences of it are profoundly healing.
Experiences of witnessing our own awareness help us live more freely, feel more peaceful, feel interconnected with everything and evolve spiritually. They're a powerful way to "reset" our energy.
It's easier to experience it than to describe it, so here's a mediation to give you a taste of meta-awareness.
1. Find a comfortable place to sit.
2. Belly breathe for a while to help you relax. (Or whatever works for you.)
3. Visualize something simple and pleasant, like a rose or a candle.
4. Hold it in your mind lightly, not using a lot of mental force to maintain it. In a very short period of time (probably less than a minute), it will naturally begin to fade (unless you have visualizing superpowers, in which case you may need to actively release it).
5. What remains after the object has faded is just awareness itself, without an object. This is a highly restorative energetic state.
6. Remain in this state for as long as you can without trying. (There's no judgment here about how long you can hold the meta-awareness state. Even a couple of seconds is beneficial.) When the state of awareness-without-an-object fades or is replaced by thoughts, repeat the process: Visualize your chosen image, let it fade and let your awareness rest lightly on what remains after the image disappears.
7. Do this as many times as you like, opening your eyes and returning to regular awareness when you feel ready.
There are many ways to reach this state of awareness of awareness, when only awareness remains. If this meditation works for you, I encourage you to do it often. It reboots your energy and is especially beneficial:
1) to clear your energy field of worry, fear or rumination v
2) to open awareness so that intuitive information can be more readily accessed
3) to prepare yourself for giving an energy healing treatment.
And perhaps most importantly, the state of meta-awareness allows you to experience yourself as you truly are: as spirit/consciousness/awareness/energy discovering itself through human incarnation. This understanding is critical to well-being on all levels, including the physical.
I attended a lecture by Deepak Chopra in April and the meditation above was inspired by an exercise he led. He's been a huge influence for me and I'm grateful for his teachings.
Namaste, Nancy
Comment/share on my Facebook page.