--by Nancy Hausauer
For most of us, moving our awareness from the reality model that we use for everyday life to the reality model that we use when we're doing energy healing is a profound switch. Because of this, what I call "consciousness-shifting" is an important skill for energy healers.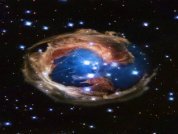 The dominant cultural view of reality is, to put it simply, that only physical matter is truly real. The energy healing framework for reality, in contrast, is that there are subtle, invisible forces that shape us, and that what we truly are can never be reduced to mere cellular processes or interactions of matter.
Is it absolutely necessary for energy healers to be able to make this shift? Maybe not. But it's certainly helpful. And liberating. And fortunately, like most skills, it gets easier as we practice it.
There are many ways to practice and build this skill. For me, images from space are often particularly helpful. My personal reality is very firmly based on this beautiful planet. Anything that moves my focus out beyond Earth's atmosphere really messes with my head--in a good way. It expands and increases the flexibility of my awareness/consciousness.
So I wanted to share this amazing resource with you. Created by American Museum of Natural History astrophysicists, "The Known Universe" shows the universe as mapped through astronomical observations. It is accurate as to scale and location, to the best current scientific knowledge.
And here's another amazing resource that helps us visualize the micro-level, the inner life of a cell. It's also breathtakingly beautiful and astounding, challenging us to re-orient to reality as we experience it in our daily lives.
Both of these animations also make me profoundly grateful to exist.
Comment on my Facebook page.