--by Nancy Hausauer
If you're in the U.S., you'll be celebrating Thanksgiving on Thursday. Whether or not Thursday's an official holiday in your country, counting your blessings is a reliable way to elevate your energy and your life.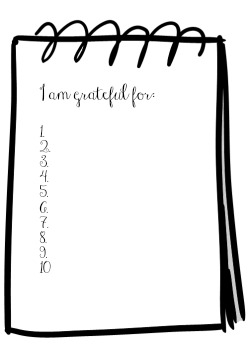 A sense of gratitude generates positive energy. You can literally see someone's energy change when they shift from negative thoughts to gratitude or appreciation. (Try it!) Thankfulness clears and expands your energy, redirects your consciousness, builds your light body, and strengthens your connection to the rest of Being.
It's a basic tenet of energy healing that "energy flows where attention goes." So when you focus on negatives, you feed that with your energy. When you redirect your attention to what you're grateful for and what's going right, you feed THAT with your energy.
Ways To Incorporate More Gratitude And Appreciation Into Your Life
Observe your thoughts, speech and behavior. How much of these are negative or complaining, how much positive and appreciating?
At night before you fall asleep or first thing in the morning (or both), reflect on things you're thankful for (or appreciate).
Keep a daily gratitude journal. Alternatively, in the evening write down three good things that happened that day, describing them in some detail.
Be sure to notice and appreciate things you may normally take for granted, like clean air and water. (I hope you have these.)
Give thanks when things are going well, and more importantly, when they aren't. Even in hard times, there are plenty of things that are going right. You can always appreciate the air coming into and out of your lungs.
Regularly voice your appreciation to family and friends, for things both small and large.
Pick some aspect of your life you usually find fault with. Switch your perspective and focus on its merits.
Practice any or all of these things for 30 days. You'll establish new, more positive habits of mind. Notice how this changes your life.
I wish all of us a warm home, enough to eat, health, peace, safety, the love of family and friends—and the blessing of a grateful heart. -- Nancy