Reviews

Link to Readers' Favorite review
*****

This is the best book on chakras that I have found. It simplifies things and doesn't overwhelm with details. I teach a class on the chakras and plan to use it as the class manual. It's easy to read and easy to understand, even for people who are new to the subject. When I showed it to my teaching partner, she said, "This is absolutely great!" — Carol W.
*****

Nancy Hausauer's Chakra Care eBook is clear, concise and 'user-friendly." Each section is simple and concise, yet full of deep information to use. This book has encouraged me to embrace my own ability and confidence to sense energy and use the tools shared to heal my body and mind. I highly recommend Chakra Care! -- Kathryn W.
*****

"This book is THE go to basic primer and advanced guide for balancing one's life through balancing energy. It has practical and easy to use suggestions for working with the entire body. . .
For the person new to energy work, there are clear concise explanations about how energy works in the body, and how to nurture your own energy. For the more experienced person, there are lots of tips and fresh ideas to achieve and regain balance and optimal health all in one easy source book.
. . . It's packed with so many ideas and suggestions, I keep it close by and reference it often. I love this book!" -- Laurie B.

*****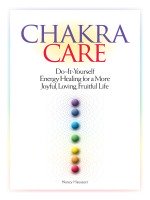 Ebook (PDF download)*: $9.97

Kindle book: $9.97

Paperback: $13.99
Or download a free sample chapter
More Reviews
I love this book, for it's depth and practicality! I come back to it time and again for advice, guidance, and practical, positive actions I can take to address issues in my personal life. --Steve A.
*****

Ms. Hausauer invites you into the world of Chakra healing but she doesn't overwhelm you with jargon and esoteric detail. She has laid it out in an easy-to-follow format that enables you to first be introduced to the Chakra system as a whole and then to focus on each individual chakra. [She] gives the reader many ways to access the energies of the various chakras and to do simple everyday things to balance one's chakras.
It is eminently useful as a manual. And it is chock full of good information. In a way this is a basic primer for beginners. The information is clear and practical. Yet it will be very useful to anyone already familiar with the Chakra system for the same reasons. --Carrie W.

*****

I have found your book so very helpful and practical. I find myself thinking of the many practical tips you have given regarding balancing my chakras as I move about during the day. Thank you for this user friendly book. I will refer to it often. — Margaret Ann S.
*****