--by Nancy Hausauer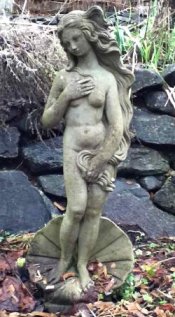 The way we think of our bodies has a profound impact on them. Specifically, the metaphors we hold in our minds about our bodies affect us, even though—perhaps especially—because they are usually unconscious. Consciously choosing the metaphors we use is a powerful tool for transformation.
What Is A Metaphor?
A metaphor compares one thing to another thing in a way that isn't literally true but nevertheless helps to elucidate or express it. For example, if you say, "Shy little Elbert sure blossomed this year," the word "blossomed" is a metaphor. Obviously, Elbert isn't a flower, but the comparison to a flower blooming gives you a clear picture of how he's doing.
We unconsciously think about many important things in our lives using metaphors that have been instilled in us by the culture we grew up in. Such metaphors act as lenses to color and shape our perceptions. They mediate our experience of reality.
Metaphors About The Physical Body
The metaphors we unconsciously use to think about our bodies can have an especially powerful impact on us because they affect us not only psychologically, but also physically. Since the Industrial Age, Western culture's dominant metaphor for the physical body has been a machine. Mind is conflated with brain which is widely viewed as an advanced machine, the computer. (There are other metaphors, but I'll focus here on body-as-machine.)
In our lived experience, we are what we think we are. So can you see how the way we think of our bodies matters so much? Viewing them as machines not only demeans and diminishes their sacredness; it also limits our ability to rebalance and heal ourselves. Machines are inanimate, insentient, dead. When broken, they don't fix themselves. Can you see how viewing your body and mind that way might inhibit your natural capacities to heal, and beyond that, to evolve?
So when I work with clients, I encourage thinking of the body as:
a river of energy or light
a pathway for evolution and enlightenment
another form of energy or information
a channel between heaven and earth
a wise teacher, oracle, ally and protector
fluid and changeable, more like water than land
inseparable from mind
fully conscious, down to the cellular level.
Underlying it all is my belief that the body is sacred, conscious, and capable of rebalancing and healing itself. My sense is that when we let go of demeaning and devaluing metaphors for our bodies, it helps us tap into our near-miraculous powers of self-restoration.
Also, when we expose any of the unconscious metaphors we hold, we are liberating our minds. When we consciously choose other metaphors, we are reclaiming our vast creative power. For all of us, freedom and empowerment are just a thought away.
What metaphor do you hold for your body? Has that image been conscious or unconscious? Does it help you stay healthy, happy, free? Does it help you heal?
Comment on my Facebook page.