Can't Get Any Traction? How To Get Yourself Unstuck
--by Nancy Hausauer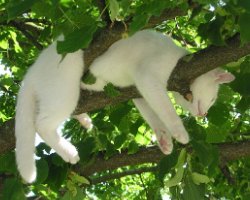 Feeling stuck: it's an uncomfortable feeling. You can't seem to move forward in some important aspect of life, even though you desperately want to. It's sooooooo frustrating. And so common.
When we're stuck, we want to break through this discomfort and frustration as soon as possible, reclaiming some feeling of control over our lives. We may search for some or clever trick or technique to help us power through our stuckness. Usually, though, its more useful to step back and reframe the situation.
As an example, let's say you've decided you want to change careers. Your mind knows the steps needed to do that: take some classes, do some informational interviews, rewrite your resume. But as much as you want that new career, you can't make yourself start any of these tasks, and you're really beating yourself up about it.
Energetically speaking, if you're in this situation, you're pushing, pushing, pushing--and overworking your third chakra in the process. What should you do?
GETTING YOURSELF UNSTUCK
First, stop, breathe, and take a step back. Then breathe some more, all the way into your belly. Belly breathing is restorative for your weary third chakra.
Just for a moment (at least) try to suspend self-criticism. There's another way of looking at this:
Your internal deadlock isn't coming from a character flaw. Such standoffs usually happen because there are two opposing forces within you, resisting each other to a stalemate. But the standstill makes no sense to you because you're only aware of one of them--your desire for a career change.

The other force operates below the level of consciousness. It's a benevolent power of great wisdom and love. It might be coming from any of your upper chakras, or even from an external power. For simplicity's sake, we'll call it the Higher Self.

In resisting your conscious plans, the Higher Self is trying to give you information about and protect your deeper well-being. Perhaps you're overtired and need to rest before undertaking a huge project. Perhaps you have a child who is having difficulties and requires your full attention. Perhaps the career you're contemplating isn't really right for you.

Whatever the cause, the more stuck and frustrated you feel, the more information there may be for you about what your heart and soul truly need. It can be a gold mine in disguise.
So instead of pushing harder, stop pushing at all. It can be uncomfortable, especially if you're a high-achieving type. But if trying to force change hasn't been working, forcing it harder isn't going to work either.
Instead, try something different. Rest. Listen to the quiet whisperings of your Higher Self (a sixth chakra function). Be gentle and tender with yourself (fourth chakra!). Know that it's OK to be still, to be patient, like the plants in earliest spring. Growth happens on its own schedule. You can trust it.