--by Nancy Hausauer
It's getting to be that time of year: Spring Cleaning time. Why is spring cleaning (or any major clearing of your home) energetically important?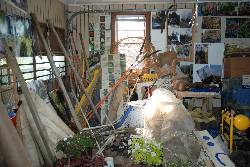 As life coach Martha Beck says, "Our living spaces are basically three-dimensional portraits of our inner lives. You can't de-clutter your living space without de-cluttering your inner life and vice versa."
Hmmm. . . Take a walk through your house. What do you see? How does each room feel? When you come home, what's your general feeling? Do you feel peaceful or agitated when you walk through the door? Does spending time at home make you feel energized or lethargic? Clear or foggy? Cheerful or downcast?
You can use the act of spring cleaning intentionally, to help clean up your energy system, open chakras and support energetic balance and flow. A good cleaning and decluttering can really shift your energy.
And the other way around, if you notice an irresistible urge to clean and declutter, it's usually a sign that your internal energy is in the process of shifting.
You don't have to undertake a whole-house-cleaning, if you don't want to. You can shift a lot of energy just by tackling one room or even one cupboard or drawer.
Or if you're really strapped for time, just clear a single surface, such as a table or shelf, and create an altar or other eye-resting, eye-pleasing spot. This could be as simple as a vase of flowers placed with intention on your cleared surface. It'll help bring more coherence, harmony and order both to your home and your personal energy system.
This is a good example of how you can use any intentionally done activity, no matter how mundane, to heal and support your energy. Everything is energy, everything is connected and intention is a powerful force. So happy cleaning!
Comment on my Facebook page.