Do Your Beliefs Support Freedom and Expansion?
--by Nancy Hausauer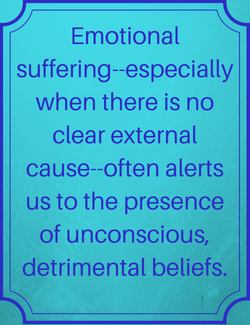 Beliefs are energy forms that can propel us forward or hold us back. How can we work with this energetic phenomenon to make our lives freer, larger, richer and more conscious?
Let's start with a not-uncommon situation.
Say Mark and Sally are talking at a party. Sally replies gruffly to something Mark says, mutters and turns away. Soon after, she leaves. Mark starts wondering if he offended her. He ruminates. Before the evening is over, he's miserable, convinced she thinks he's a worm and wondering if maybe he IS.
But it's not the only conclusion he could have drawn. Maybe she had a headache, had a rough day or … But Mark chose a conclusion that caused him suffering.
Most of us have done some variation on this. Why do we do it?
An Energetic Interpretation
The answer, I think, is that there are hidden forces that herd us toward these suffering-generating conclusions.
Those forces are beliefs, many of which we aren't conscious of, probably created when we were children. Self-generated suffering is a red alert to such unconscious, adverse beliefs, examples of which might be "I'm unworthy of love," "I'm powerless," and the like.
What Are Beliefs? An Energy Perspective
Beliefs are a form of energy--real
things
that are literal force fields in our lives.
Any time we can achieve more consciousness about those forces--especially when they're hidden, causing us suffering or limiting our potential--we gain power and control over our lives.
We also expand our lives. Because beliefs create containers for our life experiences. Containers aren't necessarily a bad thing. They can act as tools for concentrating and directing energy. Think deadlines or river banks.
But they can also limit us in negative ways, restricting movement, potential and growth. Think cages or outgrown clothing.
We want to be sure that our beliefs support freedom and expansion, that the containers they create act as concentrating tools rather than shackles. We want to CHOOSE beliefs that empower us and release those that don't. How do we do this?
Because beliefs are energy forms, it takes energy to expose them and disperse them. Questions--also a form of energy--work well for this.
Questions To Expose and Disperse Underlying Beliefs
Here are some subterranean-belief-busting questions to ask yourself whenever you notice you've generated suffering for yourself:
Is there another conclusion that can be drawn? (It's often helpful to get an outside perspective on this.)
What underlying belief might be steering me toward this unnecessary, suffering-causing conclusion?
If you can't see what the belief might be, try reverse-engineering it with questions like:
What hidden belief might cause someone to come up with a conclusion like that?
If I were looking at another person in my situation, what beliefs might I surmise were at the root of this dynamic?
Therapists can help with this process, but sometimes consciousness alone is enough.
Wishing you more consciousness, less suffering--Nancy
Comment/share on my Facebook page.