Thank You Gift: "1st Chakra: Get Beyond Anxiety To A Sense Of Peace And Security"
----by Nancy Hausauer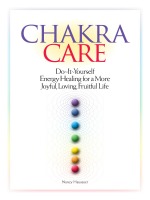 I'm pleased to announce that my book Chakra Care: Do-It-Yourself Energy Healing For A More Joyful, Loving, Fruitful Life is now available as a paperback.
As a thank you for being a loyal reader and to celebrate publication of the final version of the book, you can download Chapter 9 of the book (First Chakra) via the link below.
Gift Chapter
Just click on the link to download your gift chapter.
I think you'll especially like this chapter if you'd like to relax, feel calmer and more secure, let go of nagging fears, and feel that you truly belong in the universe and that everything will turn out basically alright for you.
You'll find a clear overview of the first chakra, a handy chart, how to tell whether it's healthy or out of balance, a list of signs that indicate it would benefit you to work with it, and finally, dozens of specific, practical, down-to-earth exercises and techniques that you can use to develop and balance it.

Buy The Book
If you'd like to buy the whole book, you can
buy the paperback version here.
(Or
buy it as a Kindle book
or as a
PDF ebook
if you prefer.)
The book contains a chapter for each of the seven chakras, helpful chapters that clearly explain what chakras and energy healing are, and five bonus chapters that tell you how to do basic energy healing practices suggested in the book.

Review The Book
If you read it, I'd very much appreciate
a review on Amazon.
Reviews really help!
Book Contents
Below is the Table of Contents for the rest of the book.
Introduction: A Welcome To Energy Healing
What Is Energy?
I Have An Energy Body? Really? (What's That?)
What Are Chakras?
Why Do My Chakras Matter?
How Can I Tell If My Chakra System Is Healthy?
Answering A Few Common Questions About Chakra Imbalances
What Is Energy Healing? (And Can I Really Do It?)
How Do I Turn Simple Activities Into Chakra-Building Powerhouses?
First Chakra: Anchoring Yourself
Second Chakra: Getting In The Flow
Third Chakra: Coming From Your Place of Power
Fourth Chakra: Heart Wisdom
Fifth Chakra: Who Are You Really?
Sixth Chakra: The Extraordinary Eye
Seventh Chakra: The Crowning Glory
Your Seven Chakras: A Holistic System
Three Techniques For Balancing Your Chakras As A Whole
Some Final Thoughts
Bonus Chapters
Appendix 1: How To Ground
Appendix 2: How To Center
Appendix 3: How To Belly Breathe
Appendix 4: How To Use Essential Oils
Appendix 4: How To Use Affirmations
Glossary
Further Resources
Enjoy!
Namaste, Nancy
---