Energy Fields: You're Not Just Imagining Them

—--by Nancy Hausauer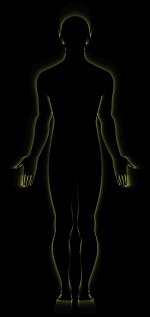 Sometimes it's hard being an energy worker. You feel things or see things that most other people aren't aware of. I know that I've definitely taken some flack for my views and my work.
Fortunately, it doesn't happen too often, but when it does, it's painful. People who are skeptical or even hostile to the idea of subtle energy are usually at least marginally polite in person. But when skeptics aren't face to face with you, for example when they're expressing their views in writing or on Facebook, they can be painfully caustic.
So it always warms my heart to remember that science is beginning to be on our side.
In his book Energy Medicine: The Scientific Basis, cellular biologist James Oschman says:
"In the current era of rapid scientific progress, many of the concepts we were absolutely certain about 20 years ago are not longer true at all. But of all the tales of exploration and discovery that could be told, none is more fascinating than the story of the human energy field. In a few decades, scientists have gone from a conviction that there is no such thing as energy fields in and around the human body to an absolute certainty that they exist."
He goes on to describe in detail the discovery of the electro-magnetic field that emanates from the human heart. New technology now allows scientists to measure this field as far away from the physical body as 15 feet.
Scientists next found that the brain emitted an electro-magnetic field as well, although not nearly as strong as the heart's. More research led to the discovery that all of the organs, including the muscles, have "biomagnetic" fields that spread throughout the body and into the space around the body. These biomagnetic fields, it turned out, are often better indicators of events taking place within the body than are traditional electrical measurements on the skin's surface.
That's hard science, folks.
So next time you're feeling self-doubt about the work you do or the sensations your feeling when you work with someone's field, remember:
Science supports you.
Love and light,
Nancy
Comment or share on my Facebook page.