When You've Really Screwed Up: Advice to a Reader
----by Nancy Hausauer
Reader Question: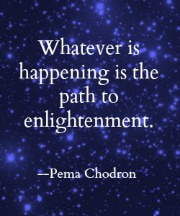 I left my husband for someone, and then that person left me. I carry so much sadness, anger, shame and resentment that I'm unable to move forward in my life. I caused much pain to those I love. Yet I still deeply miss the man I left my husband for. What can I do to heal myself and clear this darkness?
Nancy's Answer
Clearly you are suffering, and I'm sorry.
There's a saying I love, by the Buddhist teacher Pema Chodron. It may be important for you:
"Whatever is happening is the path to enlightenment."
I love this because it's so forgiving. When I've messed up—as we all do, don't think you're alone in this—it helps me feel that whatever I've done, it's the jumping-off point for my next stage of awareness and evolution, the opportunity to learn something I really needed to learn. If you can view your situation in this way, it will help you forgive yourself and shift your energy so that you can move forward.
It does you no good to label what you've done as bad, or label what your lover did as bad. Just be conscious of your actions, look at all of it as clearly as you can, with as little judgement as you can, and use it all to gain self-insight and to evolve.
Of course there's also the issue of the suffering that we cause others, which you refer to.
(And by the way, it's not possible to live and not cause some degree of suffering to other beings. So you're not alone in this, either. To some extent it's part of the human condition.
So we try to minimize the amount of suffering we cause, and when we do cause suffering despite our best intentions, we ask for forgiveness and try to mitigate the damage we've inflicted. And then we try to evolve so that we cause less and less suffering and do more and more good for others and for ourselves.)
Return To Alignment With Your Highest Self
In order to pull yourself back into energetic alignment with your highest vibration (or highest self), you need to repair your relationship with your children and come back into full integrity with them. This is a "do whatever it takes" situation. Your own heart will never heal fully until you have healed whatever wounds were caused there.
This may take time, but just keep showing up, physically and emotionally, keep being there and being consistent for them, keep having their best interests at heart, in whatever ways you can.
If you do nothing else, do this. Do it for the rest of your life (the exact way you do it will change as they grow up, of course), not as a penance, but as a devotion.
Comment on my Facebook page.