Energy Healing To Keep Your Child Well This School Year
----by Nancy Hausauer
With school starting, I'd share some energy healing techniques that parents can do to strengthen their children's immune systems (and their own). When my daughter was little, I remember how often she'd bring home a virus that we'd all eventually get. No fun.
Illness-causing microbes are always out there. From an energetic perspective, illness is often the result of the energy field wearing thin because of stress or other depletions such as poor eating and sleeping habits, or from actual breaches in the field caused by emotional or physical trauma. Without these energetic openings, the energies of the illness can't get a foothold.
As with more practical defenses (washing hands, eating and sleeping well, etc.), in energy healing an ounce of prevention is worth a pound of cure. So here are a few energetic preventative techniques to help keep your kids' energy systems robust and their bodies well.
Stress depletes the energy field and inhibits immune system function, so teach your child stress management and relaxation techniques.
In particular, teach them belly breathing. It stimulates lymphatic flow, calms the nervous system, and helps balance the energy system. Make it a family activity.
Whenever they seem "off," ground them by holding or rubbing their feet. (Firmly so as not to tickle.)
When they're upset, smooth and balance their field by running your open hand(s) along the contour of their body about 6-12 inches above it, like petting an imaginary cat, multiple times, head to toe. You can also spread your fingers a bit and "comb" their field.
Teach your child basic energetic techniques such as grounding (have them imagine they're sending down roots from the soles of their feet deep into the earth, like a tree), centering , and surrounding her/himself with light.
Get your child out into nature—one of the best things you can do for both energetic and physical wellness.
Domestic animals are wonderful healers, helping to buffer, absorb and balance energy, so let your child spend lots of time with the family pet.
Donna Eden's classic book Energy Medicine, is a great resource for family wellness, and here are some other ideas, too.
Of course, sometimes microbes catch up with us no matter what we do, so don't blame yourself if your child gets sick. Just take good care of them (and yourself) and use it as an opportunity to bond with them.
What energy healing techniques do you use for your children? Respond on my Facebook page.
---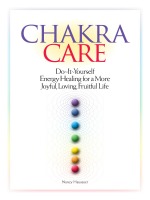 Understand the chakras and learn 500 fun, down-to-earth activities to balance, nourish and support them. Learn more or buy it here.

---