Deep-Nurture Your Energy in the Season of Samhain (Halloween)
----by Nancy Hausauer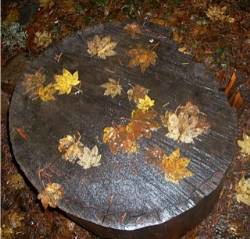 Friday is Halloween, or as it is called in the traditional, agriculturally-based Celtic calendar, Samhain. The holiday of Samhain marks end of the botanical year and the very beginning of winter.
Samhain is the beginning of the dark time of the year -- the season for rest, reflection, stillness, wisdom, and mystery. Notice how the world of nature withdraws its energy and growth, to rest in quietness in the dwindling light.
Nature beckons us to follow suit, to rest, to be still within. Out of the silence, a certain ordering of spirit can begin, leading eventually to healing, restoration, renewal, and new growth. But for now, it's time to allow the fields of your soul to lie fallow.
Here are some ideas to explore the wisdom of the season during the coming weeks:
Sit down with your journal for a quiet evening. Write extensively about what you don't know.
Pay attention to your intuition. Assume that everything you see and hear has meaning.
Notice the spiders. What wisdom might you learn from them?
Meditate. Focus on the still place between thoughts.
Take the time to really savor an apple or a pomegranate -- traditional fruits of the season.
Make an altar for a loved one who has passed on. Take the time to make it beautiful and satisfying. Meditate on the gifts they gave you and the lessons they taught you.
Turn off the lights and light a single candle. Notice how darkness and light complete each other. Allow yourself to absorb the nourishment of the dark.
Go to bed early, with journal and pen by your bed so that you can record any dreams you have. Spend time the next day allowing the meaning of those dreams to resonate within you.
Turn off your phone, TV, and all the other chattering devices of your life -- just for an evening. Notice what arises in the stillness.
Comb through your calendar, removing all unnecessary appointments and obligations for the coming month.
Allow yourself the adventure (and the luxury) of not figuring everything out.
Wishing you the blessings of the season, Nancy
You can respond or comment on my Facebook page, (https://www.facebook.com/EnergyHealingPage if the link doesn't work.)

---