Techniques For Using Breath To Heal And Uplift Your Energy
----by Nancy Hausauer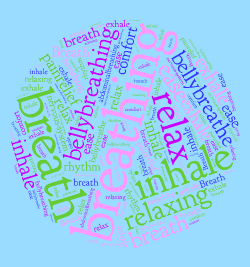 Several readers have asked me to write about direct methods to do energy healing for yourself. There are so many tools for self-healing. One that I love, both for its simplicity and for its effectiveness, is breath.
If you've been reading along with me for very long at all, that will come as no surprise. I'm always touting belly breathing both for its physical and its energetic benefits.
But there are many more ways you can use your breath to work with and heal your own energy. Really, your only limit is your imagination.
4 Ways to Use Healing Breathwork For Yourself
Here are four ways that I like to use breath to manage and heal my own energy. You can find 5 more ways to use it for self-healing, plus ways to use it when working with others,
on this page.
When I find my vibration is slipping, I take several deep breaths and with each one draw my energy up, like a ball of light, to my sixth chakra. From there, I have perspective on my problem or mood and find that my sense of angst has passed. Of course, you can use your breath to move your energy to any of your chakras.
When I'm feeling a little down, frazzled or depleted, I use my breath to breathe light into my field. With each breath, I breathe in more energy/light/life force, and see/feel my field expand and grow brighter and brighter. I can either use that light for myself, or send it to someone or something else.
When I sense frozen energy somewhere in my body or field, I use my breath like a pump to get the energy flowing again. For example, recently I noticed that the energy in my right thigh was stuck. Starting with my exhale, I used my out-breath as a pump to get the energy unstuck and moving again. Then I used the inhale to draw in light, space and consciousness. (I continued for a few minutes.)
As you breathe in, your diaphragm muscle pulls down to draw in the air. This "massages" the third chakra area. So when my third chakra needs some support (such as when I am stressed or overworking), I use deep breathing, in and out, to comfort, balance and nourish it.
Go to this page for 5 more ways to use breath to heal your own energy, and 5 ways to use it when doing an energy healing for another person.
I hope you enjoy these practices.
Namaste, Nancy
---