Let Early Spring Teach You How To Preserve Your Energy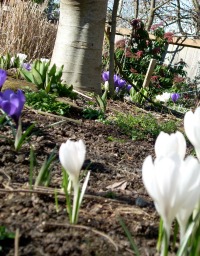 How's your energy? Are you brimming with vitality? Is life going fluidly and efficiently? Or are you overworked, exhausted, burnt out and running into lots of obstacles and blocks?
The Wisdom of Early Spring
Where I live, signs of spring are just starting to appear. As with each of the seasons, there's great wisdom encoded in it.
Looking to nature, this season of earliest spring can teach us a lot about how to preserve physical vitality, maintain energetic balance and make our lives run more smoothly. One of this season's main lessons is to do things when the time is right, and not before.
The Power of Patience
In earliest spring, the light is growing stronger and the earliest bulbs are starting to emerge. Personally, by this time I'm tired of winter and eager for the full delights of spring—more light, more warmth, more growth. But they're not here yet!
Patience is required: spring comes on its own timetable, not ours.
For the plants, there's no prize for coming up early. Break dormancy too soon, and their cycle for the whole year will be off. They may even die in a late freeze. So they wait till a complex set of cues tells them the time is right to start growing again.
Wait Till the Time Is Right
Our workaholic culture rewards work for work's sake. Work is a virtue, and not working a vice. So many of us try harder and harder, working continuously, never resting.
Taking the plants' lessons of patience and timing to heart—giving both work and non-work, action and inaction their due—can help us maintain our physical and energetic health.
This is partly because it builds cycles of rest into our lives, but it's more than that. When we act prematurely, we run into obstacles at every turn. The universe just doesn't seem to cooperate. Our energy is needlessly frittered away.
But if we wait till the right time, things go much easier. Doors open, people are eager to help, happy coincidences abound. Staying in rhythm with the universe, we preserve our own energy. It can remain smooth and flowing, rather than getting jagged and blocked. It's fueled, rather than depleted.
This year, watch closely as late winter patiently changes into early spring. Cultivate the wisdom of the plants, incorporating "judicious inaction" into your life. You'll be so much healthier, happier, and more effective.
Namaste, Nancy
Respond or comment on my Facebook page.