The Healing Power of Joy: What Early Summer Has to Teach Us
----by Nancy Hausauer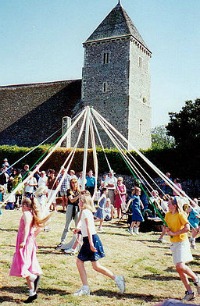 Western culture is, for the most part, waaaaaaay too joy-deprived. I don't mean thrill-deprived. Cheap thrills are a dime a dozen. I mean genuine, deep-seated, heart-centered joy.
To me, this is a culture-wide second chakra deficiency. We tend to work too hard, minimize the need for pleasure and fun, and trivialize or even demonize what I would call simple, animal joy -- the joy of being alive, the joy of just being.
That's why I love the Celtic holiday of Beltane. Coming on May 1, it marks the beginning of the beginning of summer. A fertility holiday, it was traditionally celebrated with bonfires. Farm animals were decorated and blessed. Rituals to promote fertility (life force and creativity) were observed.
In the Pacific Northwest, where I live, this season is glorious. The the trees have come back all fresh and green, the rhododendrons and azaleas are blooming, the air is sweet with perfume from all the "green people."
For me, it's a yearly call to be joyful, a reminder that joy is more than a luxury. For those of us who tend to be over-serious and fun-challenged, it's a medicine. For energy healers, it's especially important to cultivate joy. We need to feed and balance our energy so we can keep doing the work we do without depleting ourselves.
How about you? Are you fun-deprived? Has it been too long since you felt joyful just to be alive?
Here are some ideas for "joy medicine":
Make a list of things that give you joy, and DO THEM! (Here are more detailed instructions for making your personal "Joyful Life Map.")
Taking a cue from the Beltane bonfires, ask yourself, "What 'lights my fire'?" Journal about it. Pick one or two things that stand out and do them.
Take a break from your responsibilities and do something purely for pleasure and fun.
Stop and breathe in the energy of the season.
Celebrate your own beauty.
Feed all five senses with beauty and pleasure.
If you have small children or an animal companion, let them show you how to find joy in simple things.
Create something. Creation is an expression of life force, and it feeds both the second chakra and our joy in being alive.
Have fun! -- Nancy
Comment or share on my Facebook page.