How To Clear Your Energy Field
--by Nancy Hausauer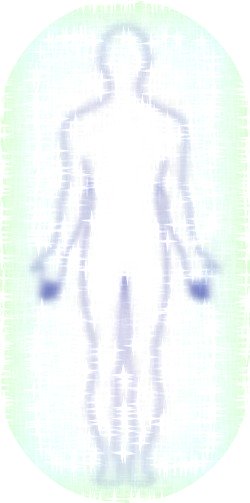 Recently, I offered a basic exercise for cultivating your light-body. It heals and restores your energy, and also is an excellent way to prepare for giving someone else a healing. But you can also use this foundational practice to help you clear your energy field.
Why You Might Want To Clear Your Energy Field
Your might want to clear your field if you feel you've taken on energy that doesn't serve you well. For example:
you can't let go of a memory, idea, fear or emotion
you've recently interacted with energetically invasive people and feel a vague unease
you've let someone get close to you and now regret it
someone has done you emotional or physical harm
you feel you have taken on the ideas or emotions of others
you feel overwhelmed, depleted, or get sick a lot
you suffer from depression or anxiety
you have an entrenched, semi-conscious or unconscious idea that's limiting you (common!)
you work in a field that involves a high degree of interaction with others
you're an empath, introvert or highly sensitive person, all of whom generally benefit from clearing their fields often.
How To Clear Your Energy Field
Start by doing the basic practice, "Cultivating Your Light Body," except for the final step (#9).
After doing steps 1-8, strengthen the boundary of your energy field by imagining/intending a thin, extra-bright, crisply defined rim or membrane of light surrounding your field.
Use intention/imagination to pull most of your light back in towards your core, retracting it till it occupies only your central channel (or any aspect of your energy system that feels like it contains just your essence).

It can be helpful to imagine that you're drawing your field in with your in-breath. Use as many breaths as you like to pull your energy/light back to your core, where there is no "non-you" energy—just your essence. Hold this for a moment.
Then, using your out-breath, slowly start to expand your field again. Use as many breaths as you wish, pushing your field out with each exhalation.
As you do this, the edge of your field will begin to encounter various energies within your energetic "orbit." Intend that the edge of your field will push any unwanted energies out as it goes (while passing over and assimilating those you wish to keep).
Keep expanding your field, using its edge to push unwanted energy out as it goes.
Push the unwanted/non-serving energy out to the point where you feel it is outside your energy field. Imagine the unwanted energy evaporating or just floating away into the universal energy field, where it is neutral.
Adjust your field as necessary. Enjoy the experience for as long as you like, then slowly bring yourself back to ordinary reality. (Try wiggling your toes.)
In a couple of weeks, I'll share an exercise for sending energy to others.
Comment on my Facebook page.