"When The Body Says No": The Work of Dr. Gabor Mate'
----by Nancy Hausauer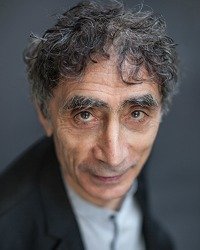 Chronic suppression of emotions, especially healthy anger.
An overriding, self-sacrificing sense of duty and responsibility.
An exaggerated concern for the needs of others while ignoring your own.
A deep, often subconscious, belief that you're responsible for how others feel and must not disappoint them.

These four behavior patterns are a common thread among many people with severe and chronic illnesses, according to renowned Canadian physician and best-selling author Gabor Mate'.
As energy healers, we tend to see people with severe and/or chronic conditions, illnesses that conventional medicine has been unable to remedy, so I've often seen these behavior patterns in people in my practice, and I bet you have, too. Since I hang out a lot with helper-types, I also see them in my personal life.
The core seems to be self-sacrificing, self-effacing behavior—an unwillingness to advocate strongly for one's own well-being. As Dr. Mate's 2003 book "When The Body Says No: Understanding the Stress-Disease Connection" argues persuasively, such self-harmful behaviors are usually formed in early childhood as defenses and coping mechanisms for relationships and situations that are stressful or otherwise not ideal for healthy development.
These unconscious, habitual self-sacrificing behaviors from childhood can result in a lifetime of being unable to adequately care for ourselves. Since we are unable to consciously say "no" to stress-inducing situations and behaviors, our bodies must say it for us, expressing unconscious emotional pain and "dis-ease" through actual disease.
Dr. Mate' advocates examining our early years, not to blame ourselves or our families, but rather to shine a light on childhood coping patterns that may be harming our current-day physical health. Once we are aware of them, we can change them. We can also, as he advocates,
"Give yourself, as best you can, what your parents would have loved to grant you but probably could not: full-hearted attention, full-minded awareness, and compassion. Make gifting yourself with these qualities your daily practice."
As energy healers, we are well situated to help people at this fundamental level—not with quick symptomatic relief, but rather by promoting deep-seated changes that support healing and balance from the core outward. Most of us aren't mental health therapists, but we can listen carefully; point out behavior patterns; encourage self-love, self-esteem, emotional balance and healthy boundaries both verbally and through energy work; and refer clients to other professionals as appropriate.
Your thoughts? Comment on my Facebook page.
You can learn more about Dr. Mate's thoughts in this article, http://www.yesmagazine.org/issues/good-health/gabor-mate-how-to-build-a-culture-of-good-health-20151116 or this video https://youtu.be/qlHIWXWDuF0.