Read Energy With Muscle Testing (Here's How) — And Some Housekeeping Notes
----by Nancy Hausauer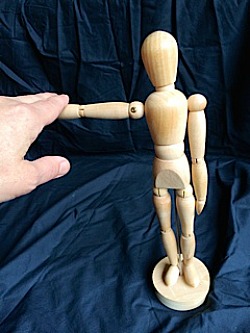 Just to let you know, I'll be taking a break from my blog for two months, except perhaps for the occasional announcement. I'll be working on finishing the paperback version of my book Chakra Care, starting an online class based on the book and making headway on a new book on energy healing for depression. Oh yeah, and enjoying the summer!

I plan to continue posting short items on my Facebook page. ("Like" it, of course, to get it in your timeline.)

Also, for those of you who've been wishing for the ability to comment on my blog, I always put a link to new posts on the FB page, and I just realized that you could comment on them there if you wanted. (Sorry my current blogging software doesn't have the capability to allow commenting directly on blog posts. Long story.)

OK, on to the interesting stuff.
****************************
Sense Energy With Muscle Testing
Some people can directly sense subtle energy, and some can't. In my opinion, you can do energy healing perfectly well without being able to sense energy, but sometimes it's nice to get extra information about what's going on.
Muscle testing (also called muscle energy testing) is a way to get direct information from our bodies and energy systems. Donna Eden calls it "biofeedback without the gadgets."
As she says, it "allows you to determine "whether an energy pathway is flowing or blocked, whether an organ is getting the energy it needs to function properly, or whether an outside energy (such as the energy of a particular food or a suspected toxin) is harmful to your system."
I've written a new page on muscle energy testing, which explains how to do muscle testing both with a partner and solo. It's fun and can yield some very interesting information.
Have a great summer. —Nancy
Would you like to comment on this post?
You can do that on The Energy Healing Site's Facebook page.
---