Creative Block? It's Your Subconscious Calling
--by Nancy Hausauer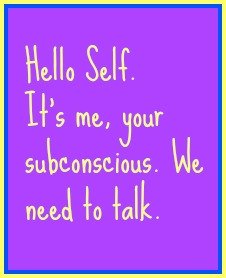 Creative block is the bane of every writer and artist. I don't know a single one who hasn't experienced it at some point.  Your Muse has vamoosed and she's not coming back anytime soon.


It doesn't just affect writers and artists, though. Each of us is a "creative" in our own way, and we've all gotten stuck on a problem or project at some point, as if blocked by some invisible, immovable force.
Here's a five-step approach to get you out of that maddening state of stuck-ness.


Don't Blame Yourself


You're not lazy, stupid or un-creative. Slinging mud at yourself only makes things worse. No blaming.



Surrender


You're not going to win a battle with creative block. The smart thing is to give up and work with the process instead of against it.



Here's why. Creative block is caused by a battle of wills between the conscious and subconscious parts of your mind. Conscious Mind is telling you to get to work, and likely has a whole detailed plan. But Subconscious Mind is digging its heels in, bringing the process to a standstill. And guess what? In this standoff, Subconscious Mind wins almost every time.



Reframe



This mysterious and maddening state called creative block is really just your subconscious mind trying to get your attention and tell you something important.

So reframe the problem. Creative block isn't a bad thing. It's a source of information, neutral at worst, a creative gold mine at best.

What's the gist of the message? Something is fundamentally wrong with what you're doing, or how you're approaching it—so wrong that Subconscious Mind is not going to let you proceed.



Drill Down



Now that you've taken the angst out of creative block by reframing it as information rather than a personal failing, drill down for the specific content.



Take a deep breath, step well back from your project or problem, and ask, "What isn't working here?" "What's wrong?"



Then pay attention to your body, stray thoughts, images that come up in your mind, dreams, songs that you find yourself humming, words that catch your attention on billboards, that little voice in your head…all the usual, indirect ways that the subconscious communicates.



Or do a free-write, or have a heart-to-heart with a trusted friend.  



Go where the discomfort is greatest: that's where you'll often find the gold.

Whatever the intelligence you receive, let it percolate for a while, and then……



Information Is Power: Use It!


Put that information to use. Make the changes Subconscious Mind is insisting on. It's almost always right. Sometimes the changes will be small, sometimes big.

But following the guidance of your subconscious will almost surely get you unstuck, unleashing a flood of creative output and sweeping you along to a whole new level of creativity, authenticity and productivity as it does. Hooray!
Comment on my Facebook page.