The Energy Healing Site is a unique, free resource. It takes me (Nancy) many hours each week to sustain and expand it. If it is useful to you, please consider supporting it with a donation.
Chakra Blockages

and Your Physical and Energetic Health
Chakra blockages are a common energetic problem. By learning more about this phenomenon, you can achieve a deeper health.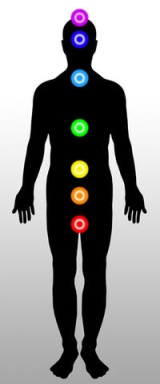 © Little_prince | Dreamstime.com
What Are the Chakras?
Chakras are energy centers, or portals in the human energy field. Located along the central channel of the body from the base of the spine to the top of the head, they are conceived of as whirling, wheel-like vortices through which universal/cosmic energy flows into and out of a person.
There are seven major chakras, plus many minor ones. Each chakra corresponds to specific glands, organs, and facets of your being.
Energy flows through the chakra system in two ways. First, it flows up and down along the central channel, connecting the chakras. Second, it flows horizontally, in an exchange of energy with the cosmos.
Blocked Chakras
Chakras can become blocked. The free flow of energy in and out, plus the flow of energy to other chakras, is impeded. Chakra blockages can have significant impact on your entire energy system.
A good description of chakra blockage and its significance comes from the Chios Healing Level II manual (http://www.chioshealing.com/HealingLevel2/EnergyDefects/energydefects.htm)
Blocked chakras coincide with certain psychological issues—with certain existential biases that the patient has adopted in their relationship to reality. These existential biases inhibit the wider range of self-awareness and action available to the patient, restricting it to a limited range of expression. . . .The manner in which the energy in the chakra system (and the body) is similarly restricted, and cannot operate freely and effectively at certain levels, reflects the corresponding way in which the entire life process has become restricted. . . . Unblocking chakras, in concert with other techniques, often provides a great deal of emotional healing and spiritual healing for the patient, and prevents physical disease, too.
Energy healing can help to open chakras and return the physical and energetic systems to better health.

How might chakra blockages manifest in a person's life or physical body?
Chakra Healing and Clearing
Energy healing can help to open chakra blockages and return the physical and energetic systems to better health. You can also learn to balance and unblock your own chakras.
Learn more about healing the chakras here
.
Learn fun, everyday things that you can do with intention to open each of your chakras here.
Discover why and how to balance your chakras here.
Would you like to learn a meditation that you can do to help clear and balance your chakras? You can learn a chakra meditation here .
Learn about chakra tones and how to do vocal toning to clear your chakras here.
Find out about chakra stones and gems and how to use them at this page.
Learn about chakra essential oils and how to use aromatherapy for healing your subtle energy centers here.
More Information About Chakras
For additional general information about chakras, you can
go to the Chakras main page.
For more general information about chakras, you can find more detailed information about the individual chakras here.
Learning About Your Own Chakras
Interested in perceiving the subtle energy of your chakras?
You can learn about sensing chakras here
.
---
Go from Chakra Blockages to Chakras main page.

Go from Chakra Blockages to home page .
---
Sign up for my free weekly blog and updates!
Learn more about energy healing, including practical tips to keep yourself and your family healthier and happier. You'll receive my "Seven Chakras at a Glance" chart as a gift.
---