---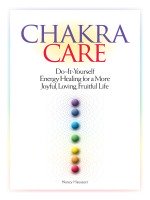 Do-It-Yourself Energy Healing for a More Joyful, Loving, Fruitful Life
Learn to clear, nurture and support your chakras with 500 fun, down-to-earth activities. A user-friendly, practical guide, available as a paperback, ebook or Kindle. Learn more or buy it here. 
---
---
Sign up to get my weekly article and other updates!
Information and perspective about energy healing that you'll find nowhere else, aimed at being practical and delivered in a down-to-earth style.
(Sample what you'll be getting here.)
Plus, receive my welcome gift when you sign up:
"The Two Week Chakra Tune-up: Energy Healing Everyone Can Do."
It's a 9-part e-course delivered to your email inbox every other day for two weeks. Free!
---

---