---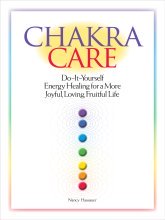 Do-It-Yourself Energy Healing for a More Joyful, Loving, Fruitful Life
Learn to clear, nurture and support your chakras with 500 fun, down-to-earth activities. A user-friendly, practical guide, available as a paperback or Kindle. Learn more or buy it here. 
---
---
Get Nancy's latest energy healing articles and updates!
Sign up to receive useful, down-to-earth information and perspectives about energy healing that you'll find nowhere else.
(Sample what you'll be getting here.)
Plus, receive my welcome gift when you sign up:
"An Introduction to the Chakras,"
a 4-part e-course delivered directly to your email inbox.
Nancy Hausauer/The-Energy-Healing-Site.com will use the information you provide on this form to send updates, including articles and marketing. You can unsubscribe at any time by clicking the "unsubscribe" link in the footer of every email you receive from us. We will treat your data with respect. View this site's privacy policy here. By clicking the "Subscribe" button above, you affirm that you are at least 16 years old, confirm that you have read and accept our privacy policy, and agree that we may process your data in accordance with these terms.

We use MailChimp as our marketing automation platform. By clicking above to submit this form, you also acknowledge that the information you provide will be transferred to MailChimp for processing in accordance with their Privacy Policy and Terms


If you are in a European Union country, you can click on this link to choose a fully GDPR-compliant subscription form.

---

---