The Energy Healing Site is a unique, free resource. It takes me (Nancy) many hours each week to sustain and expand it. If it is valuable to you, please consider supporting it with a donation.
Nancy Hausauer Energy Healing:
About My Practice


Thanks for stopping by. I am not currently taking clients.

My goal is to help people live their lives to the fullest--to help you make the most of, as the poet Mary Oliver calls it, "your one wild and precious life."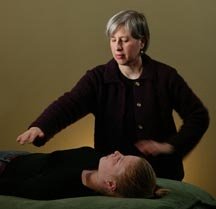 I work with the energetic (subtle) bodies and the body-mind (as part of your energy system, rather than as a separate, mechanical system) to help you align with your highest potential. This shifts and usually dispels anxiety, stress, and physical pain—things that keeps you from experiencing joy, clarity, and a sense of being on your life-path.
Clients usually experience deep stillness and calm and leave with new insights, renewed energy and a sense of regeneration.
In addition to whatever goals my clients have, I aim to help them experience their bodies more fully, and often even to move beyond that to direct experiences of the "world beyond the world," the beautiful subtle energy (or life force or consciousness) that is our source. These experiences are healing on a very deep level.
I see myself as supporting and amplifying your own-self-healing, and value a spirit of teamwork with you.
Making Appointments with Nancy Hausauer Energy Healing
To make an appointment with me in my Tacoma, Washington practice, call me at 253-686-1214. I do not do distant healings, only in-person.
I generally schedule appointments from Tuesday through Friday, with my first appointment at 9:00 a.m. and my last at 4 p.m.

You can get more information at my website for my local practice in Tacoma, Washington.
Reasons You Might Come to Me for Energy Work
for help with health and wellness issues (to support, not replace care from a qualified medical practitioner)

to support personal growth and spiritual evolution

to cultivate health, vitality, strength, clarity, joy, and natural ease

to relax deeply

to relieve anxiety

to dispel pain and discomfort

to support creative work

to reach greater clarity and insight about a problem or project

when you're in a personal transition

when you're grieving
when you're gearing up for a challenge

to support immune system health

you're feeling overwhelmed because you're too sensitive to others' feelings.

you'd like to reclaim intuitive or healing gifts that you had as a child but were taught to repress.

something is missing in your life but you can't put your finger on it.

you're looking to re-connect with the sacred dimension in your life.



Important!
Energy healing is intended to complement and enhance, rather than to replace, conventional medicine. While receiving treatment from Nancy Hausauer Energy Healing, you should always continue to seek and follow the advice of your regular M.D./D.O., psychotherapist, chiropractor, physical therapist, or other qualified medical practitioner.
---

Energy healing for  Western Washington, Oregon and B.C., including Tacoma, Seattle, Portland and Vancouver (and anywhere else--you're all welcome!)


I'm at 253-686-1214 if you have questions or would like to make an appointment.
---

To learn more about me, click here.

Go from Nancy Hausauer Energy Healing to site home page.



---
Sign up for a weekly article and other updates!
Learn more about energy healing, including practical tips for more health and happiness. (See samples of what you'll be getting here.) Plus, as a welcome gift, receive "The 2-Week Chakra Tune-Up: Energy Healing Everyone Can Do" — a 9-segment e-course delivered to your email inbox every other day.
---