---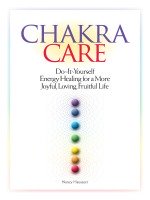 Do-It-Yourself Energy Healing for a More Joyful, Loving, Fruitful Life
Learn to clear, nurture and support your chakras with 500 fun, down-to-earth activities. A user-friendly, practical guide, available as a paperback, ebook or Kindle. Learn more or buy it here. 
---
---
Sign up for a weekly article and other updates!
Learn more about energy healing, including practical tips for more health and happiness.
(Visit The Energy Healing Blog to see what you'll be getting.)
I'll also give you two gifts: my "Seven Chakras at Glance" chart and "First Chakra: Get Beyond Anxiety To A Sense Of Peace And Security."
---

---